Description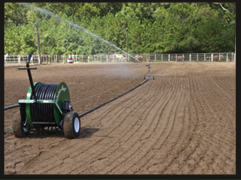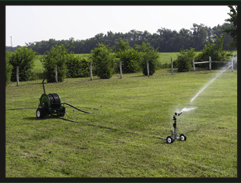 B-Series Water-Reels are a versatile solution for your sports field, horse arena, cemetery, park, pasture, garden, or residential irrigation needs. B-Series travelers come in various lengths and tube diameters and can irrigate an area as small as an indoor arena or as large as a 30-acre pasture.
DC Electric Driven Water-Reel® with 1.1" ID x 280' MDPE Tube (Battery not included)
Simple, reliable, portable irrigation for pastures, paddocks, riding arenas, sports fields, vegetables and residential settings
Automatic shutoff allows for unattended operation
Mechanical levelwind system with miswrap safety for uniform, reliable tube rewinding
Rugged construction proven by over 40 years of production and over 35,000 Kifco Water-Reels® sold
The E-110 Water-Reel is the perfect solution for both your indoor and outdoor arenas.